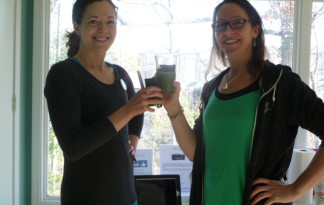 I'm feeling the inspiration to make some positive changes with my habits and break the cycle of addictions that are keeping me Numbed out and out of balance. For me the biggest addiction at this time is Sugar! Ever since Christmas, I've been enjoying delicious foods and deserts. The over use of sugar gives me foggy brain, lethargy, inflammation and fat on my body…I'm ready to make a break for it! I've done it before and it's seriously time to do it again!  I'm planning to use this powerful Springtime energy to boost my creative endeavor and clean my house, aka, My Body Temple!
I'm inviting you to join me for a 12 day cleansing program that I'm calling "Activate Your Body Temple" You will have an opportunity to personally scan your body for anything that you feel needs some healthy attention and new decisions. You will be guided to discover your bodies longing for health and given some easy to follow suggestions that will help you add more life force energy to your personal situation. Based on the groups collective needs, I will be providing resources in the form of book suggestions, workshops and exercises that i've gathered from over 21 years of learning and teaching Body Awareness.
I'm personally choosing to clean out the sugar, bread, wine, pasta and dairy for 12 days. You can choose to focus your thoughts and actions on anything you feel will give you more energy, joy and freedom. I will meet you there!
This is an invitation to join our free – 12 day mini program to support you in Springing into wellness:
Activate your Healthy Body Temple with easy to follow instruction for letting go of the old habits that keep you stuck while opening to fresh new perspectives for Self Care and Love
WHEN:This 12-day cleanse will start Friday, March 20th and End Tuesday, March 31st
WHERE: All you need is access to your computer. We will have a conference call on the first day, March 20th to kick off the program
What you will receive
Each day you will receive a short e-mail with easy to follow instructions with Food for thought and suggestions for creating more aliveness in your body and health in your life.
12 days of easy inspirational ideas to focus your intentions for better health and wellness and that bringing you closer to your body health goals…
How to get started
To prepare for Friday March 20th, we have created a short questionnaire to help you focus on what you want most for your body and your life. Click the link to get started: 12 Day Cleanse Survey.
***BONUS EVENT
(Free to participants of our 12 day Spring into Wellness program)
What: Heart IQ intro and a Breath Empowerment session with Leslie Clayton. Offers fresh ideas to stretch and nourish your body, mind and spirit.
When: Wednesday, March 25th 7:15pm-8:45pm
Where: Live @ Body Awareness Studio