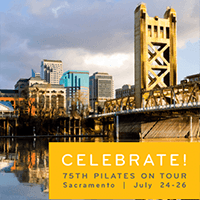 Hello Pilates Enthusiasts!
We hope you're enjoying your Summer. If you're like most of us around here, your traveling, enjoying some well deserved vacations and catching up with family and friends. Summer is also a great time for Pilates instructors to dive deeper into their own Pilates practice.  We're always keeping an eye out for good opportunities to fine tune our bodies and add new perspectives to our Pilates sessions at Body Awareness Studio.
We are excited that Susan Leeder and I are traveling to Sacramento to help celebrate the 75th Pilates on Tour.  The Pilates community is relatively small when we look at the full scope of humanity.  Body Awareness Studio is the Atlanta Host site for the Balanced Body Education programs and we love being a part of this incredibly talented group of Pilates professionals!
If you're a Pilates Instructor and want to boost your practice or gain some new insights, come with us to Sacramento and join the Party!  If you're not an instructor but want to join the community, check the Balanced Body Education page to find Pilates Instructor trainings in your part of the world. We are a Global community!
Message from Balanced Body:
Join us as we celebrate our 75th Pilates on Tour!
For the last 10 years we have been bringing Pilates on Tour to you in cities across the country and around the world. In celebration of our 75th conference, we are inviting you to visit us in lovely Sacramento to visit Balanced Body headquarters, party late into the night and enjoy one of our best conferences ever.
Click HERE to Register!