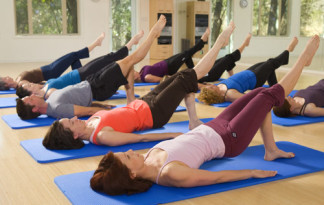 The art of cultivating consciousness starts with practicing body awareness and what I'm now calling Brain-BodySense Training. Practicing this Brain-BodySense inside every movement of your Pilates practice gives you a deeper experience of health and aliveness
Part One:
Learn how to empower your body and nervous system to self-regulate and nourish every cell in your body for more vital life force energy.
Practice the Pilates movement principles with particular attention on how your breath and alignment will support the healthy stimulation of the vagus nerve which naturally reduces the stress and inflammation in the body.
Review the 3 Core Connections perspectives as taught to us by Wendy Leblanc-Arbuckle to enhance your daily Brain-BodySense awareness.
Discover how these simple body awareness practices will change the way you meet your Pilates practice and any life challenge.
Part Two:
Experience an Intermediate Pilates flow using focused conscious awareness and the 3 Core Connections Perspectives and feel powerfully connected and free.
   When: Saturday, August 13th 9-11:30
                                                          Cost: $15(Part One ONLY)                                                          $25(Part One & Two)
Where: Body Awareness Studio:  5549 Roswell Road, Atlanta GA 3008
Call to Register:
404-252-7550