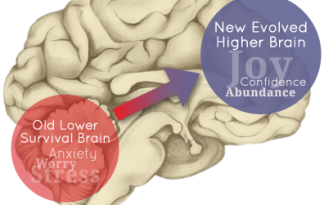 Wow, it's really springtime! New life blooming, New President, New relationships growing and a whole new list of personal life lessons as my sweet mother is no longer with us. The fear, grief, sadness and pain from losing my mother 4 months ago, has sent me on an inner and outer journey for balance and healing. I love this time of year and I'm using this very special springtime energy to touch base with you and let you know about a new program that naturally activates the part of your brain that accesses optimism, happiness and creativity. Fear and Stress melt away.
If you are studying and practicing Pilates, then you're already cultivating the awareness that you need to self correct from poor posture, faulty movement patterns and remembering to BREATHE! We celebrate those moments when you remember to use your Pilates practice to shift from pain and discomfort to ease and freedom.
When you remember to relax your shoulders and breathe, you are training your nervous system to shift from "Fight, Flight, Freeze" (which perpetuates stress and disease in your body) to "Rest and Digest" (which bolsters the restorative abilities of your body systems) It's all very simple but not necessarily easy to do when you are suffering from physical, emotional or mental stress.
I've always been fascinated by how some people manage stress better or quicker that others. Mom did it with singing and a fun sense of humor. This resilience, is the ability to manage and recover from stress. It's a learned skill and anyone can do it.  However, many people forget that they are holding on to stress and they walk around with years of undigested pain in their body. We see it and feel it all the time.
Last year, my family and I experienced more pain than we've ever had to face. Our mother, Pat Kroen, slowly and gradually lost her health and passed away. During the agonizing months leading up to her death, we were pushed at every level of our beings, to stay healthy and strong so that we could be there for our Mom and each other. The challenges that many families are asked to face when a loved one needs elder care support are grueling and heart wrenching. I know first hand how damaging the emotional and mental stress can be on the physical body. Mom will be missed and her love and laughter fill my heart as I sing the Pilates instructions to my clients. If you hear me singing around the studio, you'll know that's my mom shining on through my work.
Because of the profound challenges that I experienced and the lessons that I learned, I'm on a mission to bring the most efficient and effective stress reducing resources to you and your families. In addition to Pilates "done correctly", Body Awareness Studio will be offering Higher Brain Living sessions. It is a training program that simply energizes the higher brain, or pre-frontal cortex, of your brain which reduces the effects of stress on the mind and body. The lower brain (the brain we use constantly) is our "survival brain." Its job is to keep us safe and secure,  so it doesn't like change. Unfortunately the lower brain's "fight or flight" mechanism can keep us locked in repetitive and often destructive behaviors. HBL sessions will make it easier for you to shift out of the old habits that keep you stuck.
Studies show that without assistance, we only use about 5% of our Higher Brain's potential. Learn how to use MORE so you can achieve MORE and reach your full potential. I have had 8 of my 22 sessions. I can see and feel my body and my mind adapting to change. It's been easier for me to make decisions, I'm more motivated to eat well, clean clutter, think new thoughts and I have a lot more energy! This will be a unique addition to Body Awareness Studio. I'm so excited to share it with you.
Only 10 spots available in 2017!
Customized programs will begin in May! This is a 22 week program. If you are considering taking this step with us,
call Leslie to schedule a 5 min conversation.
Full Program $2750 
Pay before April 15th $2200
(22 weeks and the guide book)
DO YOU want to be one of the first 10 people to experience the Higher Brain Living program at Body Awareness Studio?
The first 5 people will get this for $1997! 
Be one of the first 5…Act NOW!
Call 404-252-7550 to secure your spot!